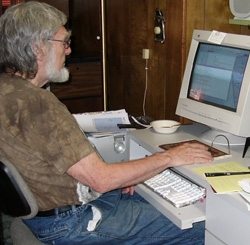 Alcoholics Anonymous. With over 40 years of sobriety, Bob was active in a number of AA groups.
McLaren Hospice. Bob's hospice June-November 2009.
Michigan Athletic Club. Bob's work out place after he retired.
Moveon.org. If you knew Bob, then you're not surprised he was a contributor to this organization.
New York Times. Bob's favorite newspaper, especially the Science section.
Universalist Unitarian Church of Greater Lansing. Bob's church since 2001 and where over 300 of his family members and friends gathered for his celebration of life service on November 8, 2009.
Dr. Bob Scholarship Fund Contribution Forms
Dr. Bob Scholarship Fund Contribution in interactive PDF
download, fill out, print, and mail
Dr. Bob Scholarship Fund Contribution in Word
download, print, fill out, and mail
Visit the Facebook Page
Find out more about Bob, the Scholarship Fund, and Friends of Bob
Dr. Bob Scholarship Fund Flyers
Dr. Bob Scholarship Flyer Crewing Photo
Dr. Bob Scholarship Flyer Darwin Tshirt Photo
Agnostics Facing Death
Visit Bob's blog, written after his decision to enter hospice